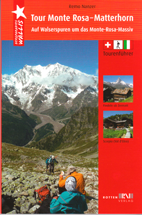 More than 300 kilometers can be traversed on the Monte Rosa Tour, along pastures, streams and ropeways. At the end of the nine stages, the hiker is tired but enriched with magnificient experiences. The person who has completed the Monte Rosa Tour deserves admiration, because he has achieved a great performance.
The book "Tour Monte Rosa – Matterhorn" is the only one that is so complete. It includes scaled hiking maps, a list of possible accommodations, useful telephone numbers and more than a 100 pictures, which are really worth looking at.
It is on this base that this website was realized, to charm you.